Want to use our checkin app at your next event?
First this option needs to be requested so reach out to the support chat bubble and ask for it to be turned on or email support@trellis.org
After it's turned on...
Once your checkin app is turned on you will see this icon on your fundraiser in your dashboard.
You can login to it by clicking on it or
Alternatively, you can access it from this URL: https://checkin.trellis.org/
Checking In Guests
Check in app (app) is to check registered guests/ticket holders in, you cannot add new guests directly via the app. If a guest arrives and does not have a ticket, they need to purchase a ticket first, before they can be checked in.
When guests arrive, you can edit their details, add a credit card and assign them a paddle number.
To check someone in you can scan the QR code that is on their ticket or you can search for the guest's name and select the checkin button:
During checkin you are able to edit their details including a paddle number (Paddle numbers must be unique, if you try to assign the same paddle number to someone else it will not allow you to save) and a table number if desired and help them to enter their payment information.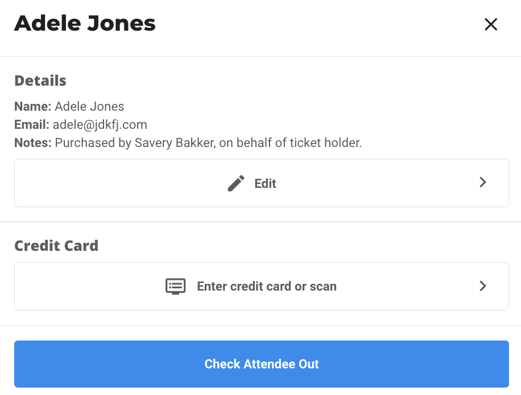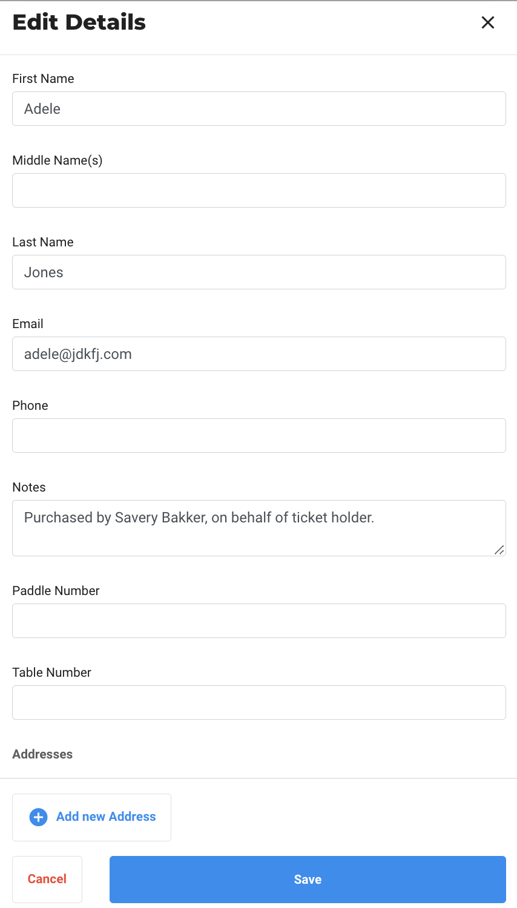 In our system, email addresses have to be unique if a credit card is going to be associated with their account. If you try to add a credit card to someone who has the same email address as someone else you will get an error:
Troubleshooting guest's status
To make it easy for organizers to make sure that each guest is checked in properly we have the following legend to help with determining what needs to be done for a specific guest's status.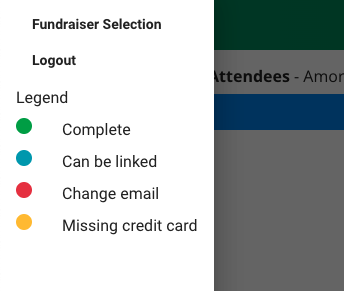 Let's take a look at every color status and how to manage them:
1. Green / Complete - this guest has no error and is ready to be checked in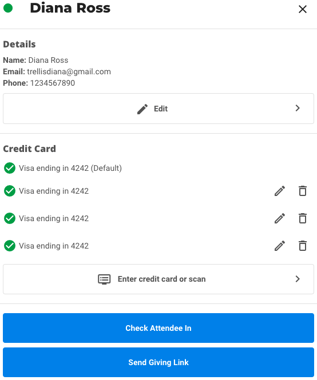 2. Light Blue / Can be linked - this guest has an existing account that can be linked. To resolve this you can edit the guest's profile and change the email or send the giving link so his profile can be linked to his existing account.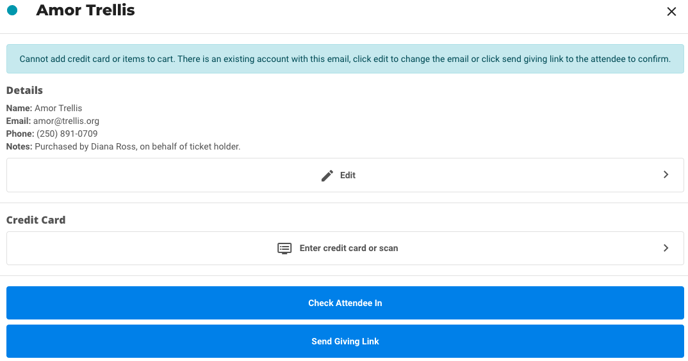 3. Amber / Missing credit card - you will need to ask for the credit card details of this guest if they will participate in purchases. You can automatically charge the guest for any purchases they want and have a smooth successful transaction towards the end of your event.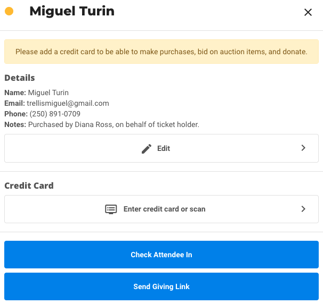 4. Red / Change email - you will need to edit and change the email associated with this guest as it is already used by another person. This typically happens when someone else bought the ticket for them and the purchaser entered their own email instead of the guest.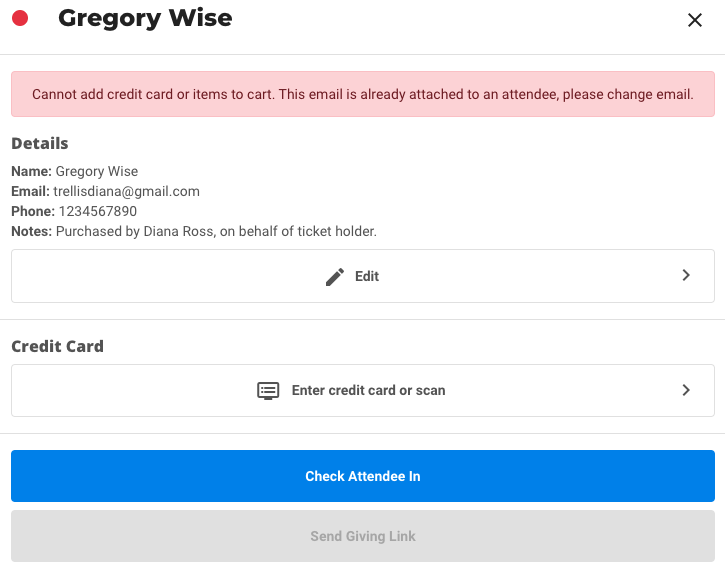 Adding Purchase to cart for your attendee
In order to add purchasable to a shopping cart, the purchasable needs to be active on the main fundraising page. The types of things you can add to a guest's cart are:
Event tickets
Donation options
Custom donation amounts
Items
*ERS Raffle tickets are not supported
You can add and remove items from the shopping cart throughout the event:
Note the custom donation option quantity field changes to $ amount to allow a custom amount:
In person auction payments
A common use case for the check in app is to process payment for live auction items that have been won by an in person bidder.
Steps to follow:
Prior to the live auction, create an item for sale for every live auction item:

Put a placeholder price in for each item – you will need to update the price to match the winning bid price after the item has been won.
Set the amount available to be 1
Change the item visibility to hidden – this will prevent anyone from being able to purchase the item directly.

Once the item has been auctioned off and awarded to an in person bidder follow these steps to collect payment:
Edit the item price.
Change visibility to visible.
Publish changes.
Once the page has been published, refresh the checkin app and you will be able to add the item to the winner's cart:
*Note, adding an item to a cart does not prevent others from buying it. An item with a quantity of "1" won't be out of stock until payment is complete.
Completing a purchase and processing payment
When you're ready to complete a transaction there are 2 options: sending the payment link to the donor or "Pay now" to automatically charging the card on file.
Pay Now *This is the recommended method for processing in person payments
If the Pay Now button is clicked it will charge the default credit card on file and send a receipt to the donor.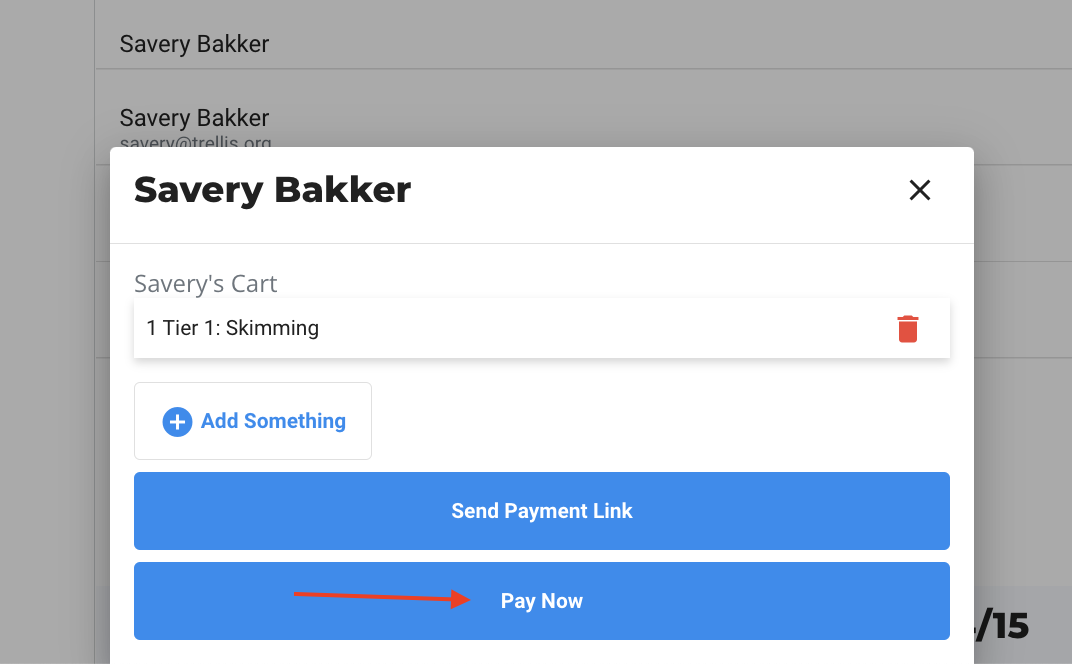 Sending payment links
When you send a payment link it will send and email to the donor and if they have a cell phone registered it will also send them a text message: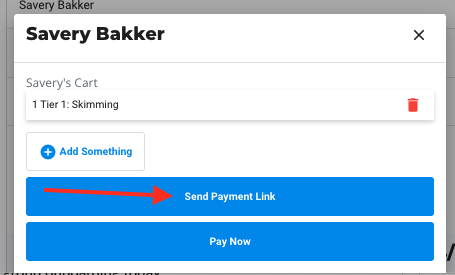 Email :
Text Message :
If the donor clicks the link that was sent to them it will take them into the checkout with the items in their cart, but no personal information is included and no credit card information is included. The donor will need to fill out the required checkout fields to complete payment.
Other notes:
When adding a credit card to a donor there is a checkbox to make the card the default payment method. This is needed when more than one card is added to a donor's profile. If there is only one card on file, it will be the default card (you don't need to check the box)
Volunteer Access to check in app:
With the check in app you can assign volunteer accounts. Once added, these individuals can access the check in app for the fundraiser and perform all of the functions in the check in app.