Check out the video below or read through the article on how to use the check-in tool.
You may also click here to download this printable checkin-tool guide!
Log in to the Check-in Tool
Log in to the account with the details provided from your event organizer.
Click the "Search for a fundraiser" dropdown and select the event for your city
Finding Guests in the Tool
Scroll through the list to find the right name
a. Note: the list is alphabetical by first name
Use the Search bar at the top of the screen to find a guest
Use the Filter option to narrow down your search.

Note: if you use the filter, make sure to clear the Filter when you're done otherwise you won't be able to search all guests again
Check-In a Guest (Quick Version)
Click the Person Icon
Click the Check Attendee In button
Once checked in the person icon will now be green

Check-In a Guest (Edit Guest Details and add a Credit Card)
Click the Person Icon
Update Guest details

Click the Edit button
From here, you can change or add guest details, add Notes about the guest, and add an Address. Once done press "Save"

Troubleshooting guest's status
To make it easy for organizers to make sure that each guest is checked in properly we have the following legend to help with determining what needs to be done for a specific guest's status.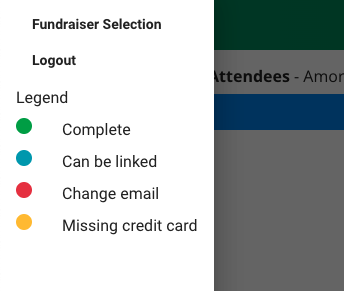 Let's take a look at every color status and how to manage them:
1. Green / Complete - this guest has no error and is ready to be checked in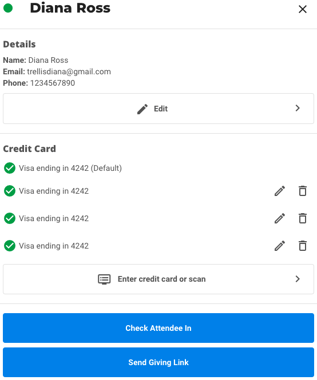 2. Light Blue / Can be linked - this guest has an existing account that can be linked. To resolve this you can edit the guest's profile and change the email or send the giving link so his profile can be linked to his existing account.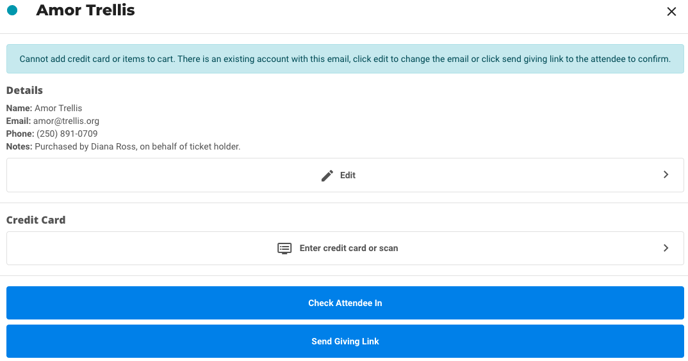 3. Amber / Missing credit card - you will need to ask for the credit card details of this guest if they will participate in purchases. You can automatically charge the guest for any purchases they want and have a smooth successful transaction towards the end of your event.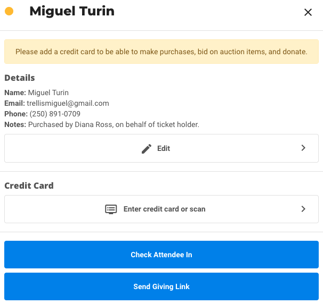 4. Red / Change email - you will need to edit and change the email associated with this guest as it is already used by another person. This typically happens when someone else bought the ticket for them and the purchaser entered their own email instead of the guest.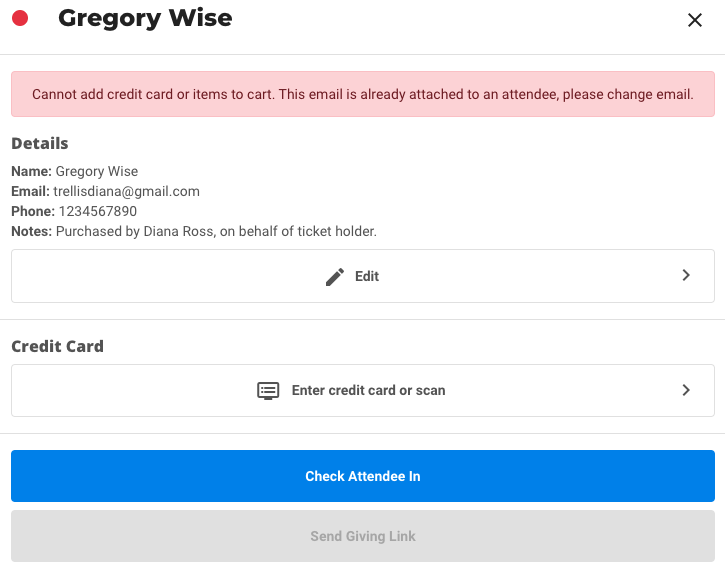 Quick Tips to become a Pro at the Trellis Check-In Tool
What's a Giving Link - The Giving Link is the magic link that automatically connects the Trellis Guest profile (found in the check-in tool) with the account the donor made to bid in the silent auction, live auction, or make one-click buy donations. To learn more about sending giving links, click here.
Best devices to use for the check-in tool - The check in tool was designed for a mobile device, or a tablet (ex. iPad). It can also be used on a phone.

For Apple devices the Check-in Tool is only supported by iOS 14.5 or newer versions. To check your current device iOS, click here.

How to scan a credit card - if using a mobile device or tablet, you are able to scan a credit card for a quicker experience. This works similar to how you scan a cheque.

If using an Apple device, scanning is supported when using a Safari browser
If using an Andriod device, scanning is supported when using a Chrome browser

What does the donor notification look like?


When you send a Payment Link - email notification preview

When you send a Payment Link - email notification preview


When you click Pay Now - email notification

Are you ready to take it to the next level? To learn how to add items to your guest's cart using the check-in tool! Click here.
To learn how to use the giving link using the Trellis checkin tool click here!
Did this answer your question? If not, please feel free to contact us using that teal chat bubble on the lower right corner of your Trellis account dashboard.