Welcome to Trellis! We want to show you around and help get you started on the platform. Show you some tips and tricks for setting everything up and make sure you can find your way around the site.
We are so glad you've decided to start an account with us and start building your page. Trellis is a template site for you to start customizing for your fundraising event.
Sign up for an account
If you're going to share this login with others who will be helping with the set up we recommend not using the google sign in and making sure to use a password you can share.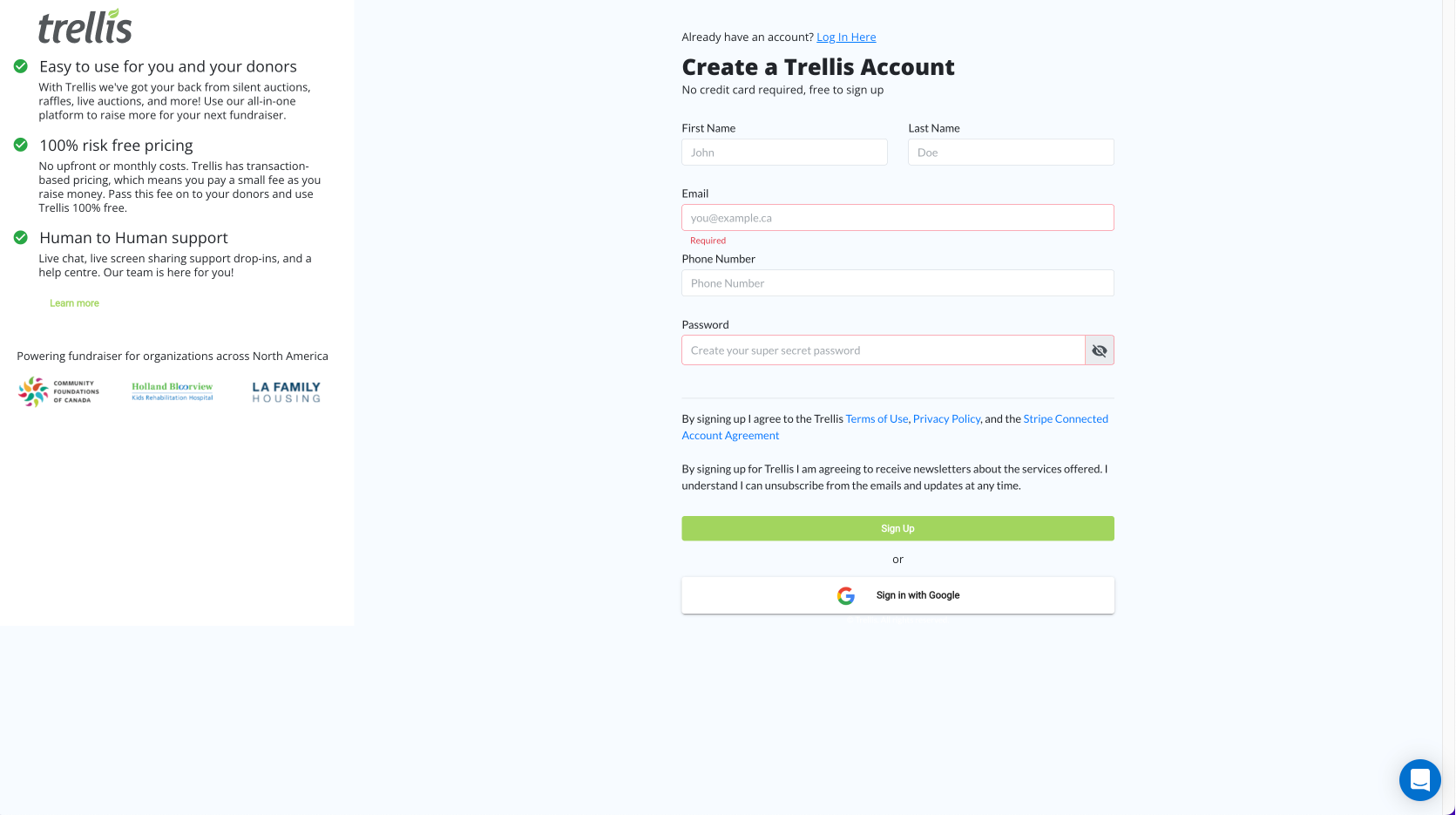 Fill out your Organization Name, Country, Province or State and how much you raise annually as well as your Organization Logo.

Next decide which fundraising elements you want our site to turn on for you.

Your fundraiser name can be entered here as well as the goal for this specific fundraiser

And finally your fundraiser image. So if you have a marketing flyer or something similar you can upload that, or use an image from our stock photos. This can be changed later if need be.


Thats it! You're all signed up and ready to start building your page out.


---
There are two main sections to building out your page, The Builder and The Dashboard
When you first create an account it will take you straight into
The Builder
There are 2 Places to edit the settings of your page within Builder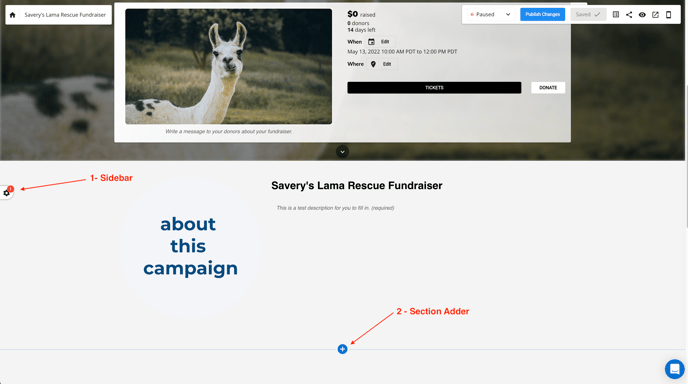 ---
Sidebar Settings
Sidebar that you can access by clicking on the gear icon on the left of the page.




There are three sections in the sidebar.

Sales

You can make changes to individual fundraising elements here. Click around in all of the elements to get a feel for some of their customization abilities and options.




Fundraiser Settings
The settings in this section are more global changes to your fundraiser. Buttons and their wording, page colours, thank you messages, fees etc.

Admin

Here you can edit some more administrative settings such as your tax receipting, banking, organization info and fundraiser results.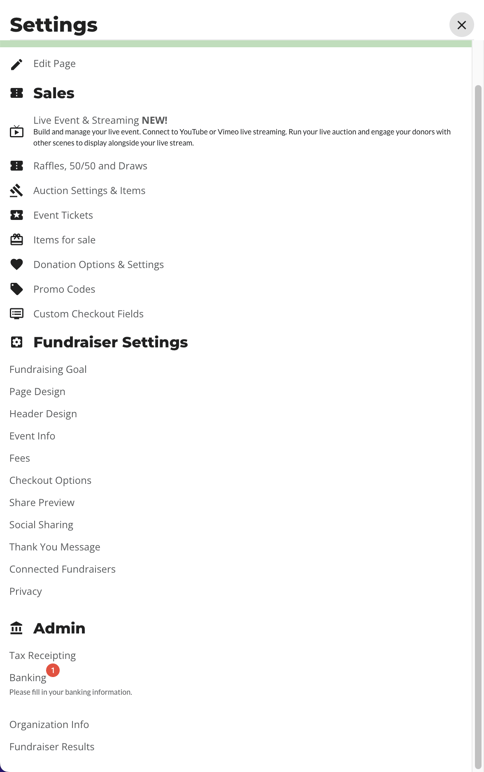 ---
Section Adder (Blue Plus Button)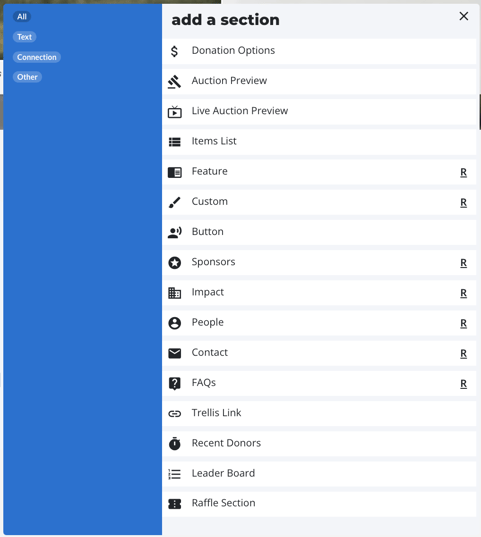 This is how you showcase information on your landing page.
* Please note, the R on the right and side of some sections identify if they can be mirrored on the raffle page. For more information on Mirroring please click HERE.
Click HERE for more on how each of these sections work
---
When you first log into your account you'll be taken directly to the dashboard. The dashboard is easily identified by the big green stripe across the top of the page.
I like to call the dashboard the foundation of your page.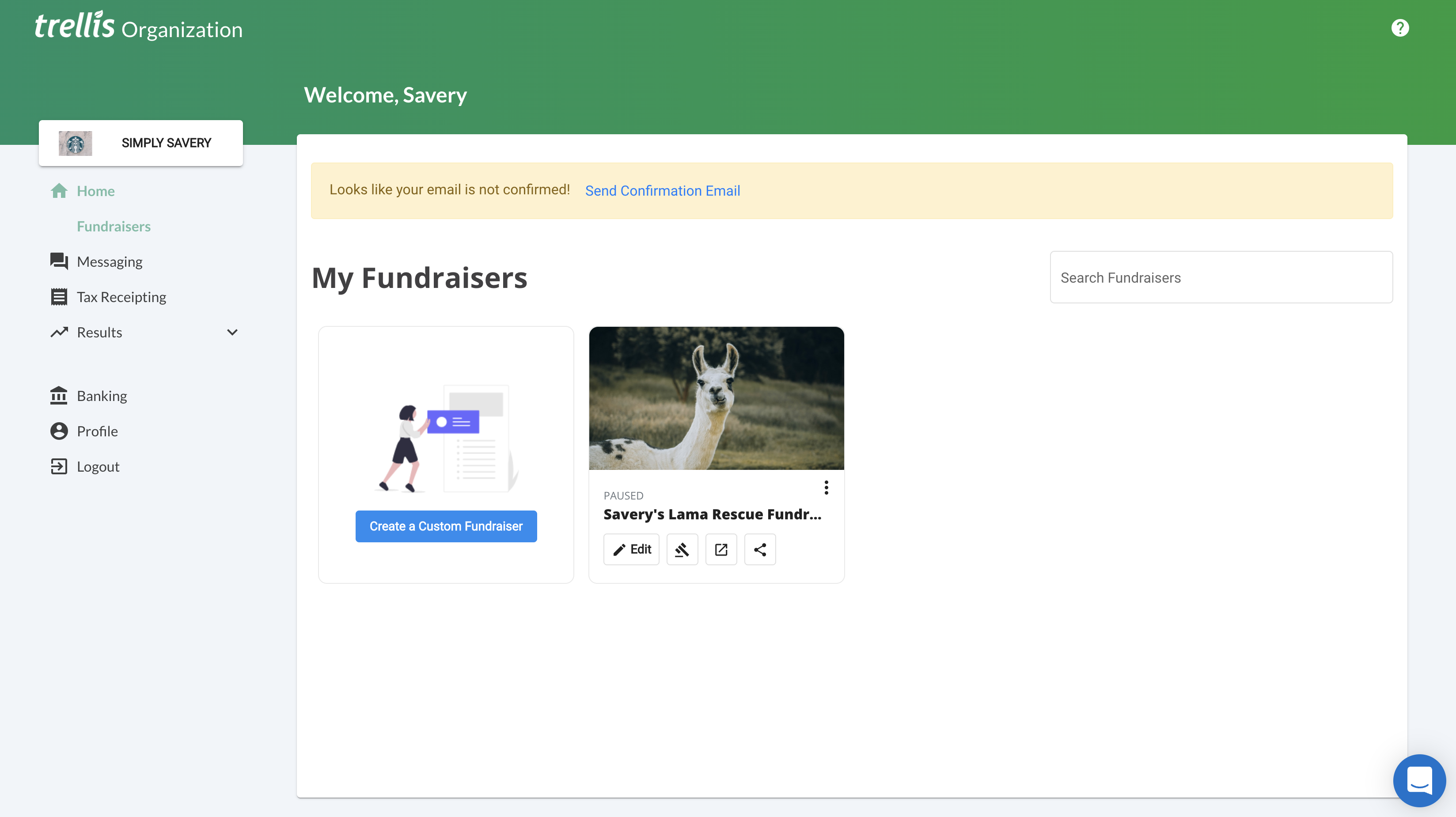 For a Break Down of everything you can do in the dashboard please follow THIS LINK